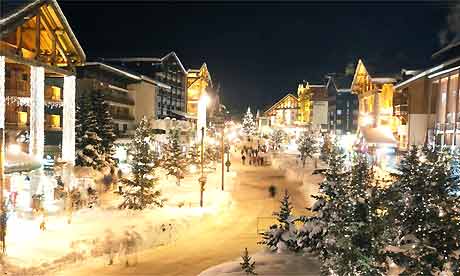 (Image courtesy of http://image.guim.co.uk/sys-images/Travel/Pix/pictures/2006/12/18/valdiserePR276.jpg)
As I write today on Blog Action Day, there are 70 days until Christmas 2007...oh yippety yah...70 nights of anticipation and 70 days of ball-busting preparation! Don't get me wrong, I actually love Christmas Day. I enjoy waking up before the children, creeping downstairs and making Christmas Morning Muffins. I also enjoy seeing them open some real surprise presents and watching the sheer delight on their faces as they play with some new toys. And yes, I enjoy receiving the odd present...who wouldn't?

However...it has to be acknowledged that for many, Christmas is no longer the season to be simply jolly, but has become the season of sheer madness which starts in September...and has turned into a madness of over-consumption in every way.

Before I go on, let me emphasise that I am not particularly religious so I have no bone to pick over how the meaning of Christmas has been lost from a spiritual perspective (although I do understand). Also, I am not a scrooge, far from it. I enjoy giving presents and seeing the enjoyment in people's faces over the effort I have made in presenting them with a good honest gift that they will love.

My beef is about the overwhelming efforts that are multiplied many times over in our western society to make sure that everyone has the perfect Christmas...which often consists of...

excessively over-packaged presents, many of which are unwanted and are a result of panic buying.


extreme quantities of over-packaged food, much of which goes to waste,

increasing extremes of excessive festive outdoor lighting,

and which is often accompanied by
individual disappointment, if expectations aren't met,


excessive waste needing to be managed by local councils,

individual regret following over-consumption of food or alcoholic beverages.
Before I get accused of being a grumpy old git, I am simply asking the question


"is it time to change our expectations of Christmas?"

We can all still have a great time, but does our society need to take things to such an extreme, for just one day. Some might say, "but it is only one day, surely if you can't enjoy yourself and have lots of presents on that one day, when can we?"

I say, "Yes, go ahead. It's only one day, once a year...so what's the problem...for now...but what about in 10, 20...or 30 years time...or when your grandchildren grow up, with grandchildren of their own... coping with higher temperatures, freak weather with floods and droughts, rationing of resources. What will they think about the excesses of consumption which led to their situation.

For every present, there is often protective packaging, plus a carrier bag, many of which have required energy resources to produce. It might have been shipped or flown in from the other side of the world, eating into more energy resources.

Once the present is opened, its packaging is discarded for waste disposal, impacting once more on the environment. The real shameful fact is that in many households the usefulness and relevance of the gift can be short-lived and once boredom sets in or new fashions take over that it too is discarded. You only have to visit a car-boot sale to witness the evidence, with the hundreds or thousand of DVDs, CDs, toys. A car-boot sale to me is like a graveyard to consumerism, with people picking over the bones. I know it has great recycling power, but without the heavy consumerism in the first place, we wouldn't need to worry about the recycling issue.

It may seem like I am standing on my soapbox preaching to the unconverted and yes, in a big way I am. However, I am really waving a white flag, calling to be rescued from my own part in this madness, where I can often be found racing around for a present for a member of the family who doesn't even know what they want for Christmas. I do it because they might think I don't love them if I don't and might get a mardy on....how mad is that.

Also, how mad is it to throw out kids' toys which are good enough so that you fit more in each Christmas. On this subject, I do not want to spent my precious little time, taking little used toys to a charity shop or selling on ebay just to make room for more each year. Already, I am getting myself in a tizz, just thinking about it.

For me, the Christmas preparations have already begun. Last week I bought several packs of cards so that I can at least have a chance at sending out my Christmas messages in time for the big day and I will be writing our my gift list soon, to work out all those who I will be buying presents for.

However, this year I intend to reduce my own contribution to over-consumption, with just a few hits...


I have made an agreement with my friends that we will not be swapping presents for our children this year. One friend is quite relieved as she already had over 30 children on her gift list ...two less won't make a big indent but it's a start! For me, it means 10 less presents, both incoming and outgoing. That makes 20 less presents for people to buy in total - just imagine the impact if every family did the same.

For my extended family, I will work hard and give the gift of time.
The Christmas cards that I have already bought are intended for all those people who don't have access to a computer or whose email address I don't have, but for those who have email, they can expect something different this year.

This year, my Christmas list is as follows.
If you see me regularly, don't worry about sending a Christmas Card. Show that you are thinking about me by not sending one. I'll still know you care, when you say hello in the street.
I don't expect any presents. Honestly I have enough, so don't feel the pressure to shop till you drop. However, if you've slaved over the oven in a Christmas baking project, I will be happy to share your delights instead, but no pressure.
For those in my family who really want to treat us, come up and visit . 21st C Dad and the kids would love your company. If you're feeling really brave, you could even baby-sit.

There are lots more ways in which we can make each other feel appreciated and loved at this special time of year. I am sure I will be indulging in other ideas, which can be found by clicking
here
.
However, if you really feel the urge to buy me something for Christmas, I wouldn't mind a couple of goats or condoms. Not for me, you'll be relieved, but for those in more need of such things. Get the full picture and visit www.oxfamunwrapped.com.
Oh yes, and one last thing....have a great Christmas won't you...and if I've been successful in passing on the guilt...it makes me glad that I am not on my own. Otherwise, I think I would be in need of therapy.
This post was written as a contribution to Blog Action Day, enabling bloggers to post
about the environment in their own way and relating to their own topic. It's aim is to get everyone talking towards a better future. It's not too late for you to join in, just visit http://blogactionday.org/.


For inspiration, see the latest posts from Ingenious Rose, Jo Beaufoix, Beansprouts DomestikGoddess, Musings from a Stonehead and Zen Habits, which are just some of the blogs participating in the Blog Action Day movement.